Our Function Hall Manchester NH
We've got something
for everyone!
An Intimate Function Room Located in the Heart of Downtown Manchester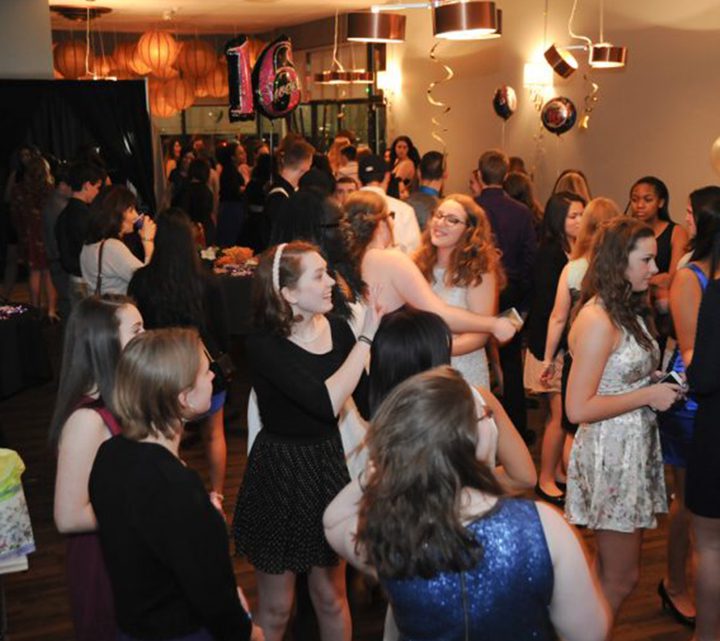 XO Bistro's function hall in Manchester NH is the perfect venue for your next event. Whether you're hosting a small business meeting or planning a large holiday party, XO Bistro offers a unique event room with plenty of space for live entertainment and a dance floor.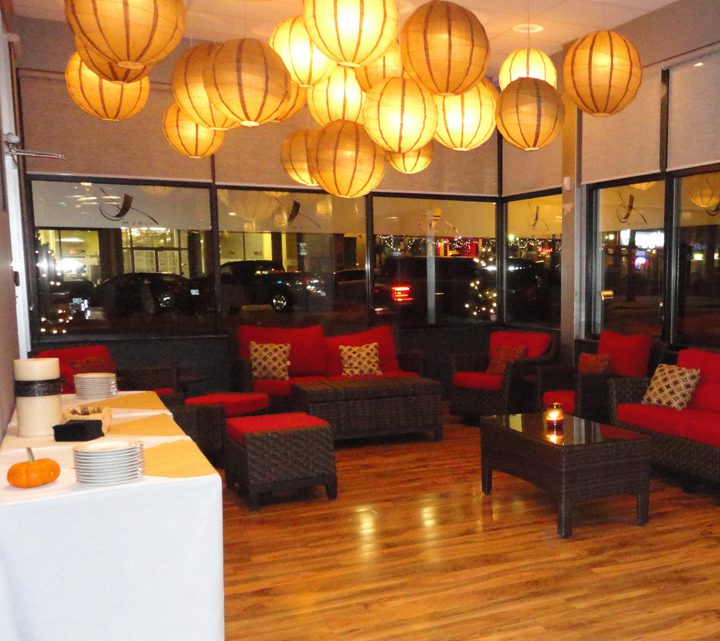 XO Bistro is conveniently located in Manchester, NH near covered parking and some of the area's best hotels.  Our event room can accommodate up to 100 guests and offer professional catering services at affordable prices.  Check out our menu below!
Inquire more about our function hall rental in Manchester NH for your next event below!
Get More Information About Our Function Hall Rentals in Manchester NH
"*" indicates required fields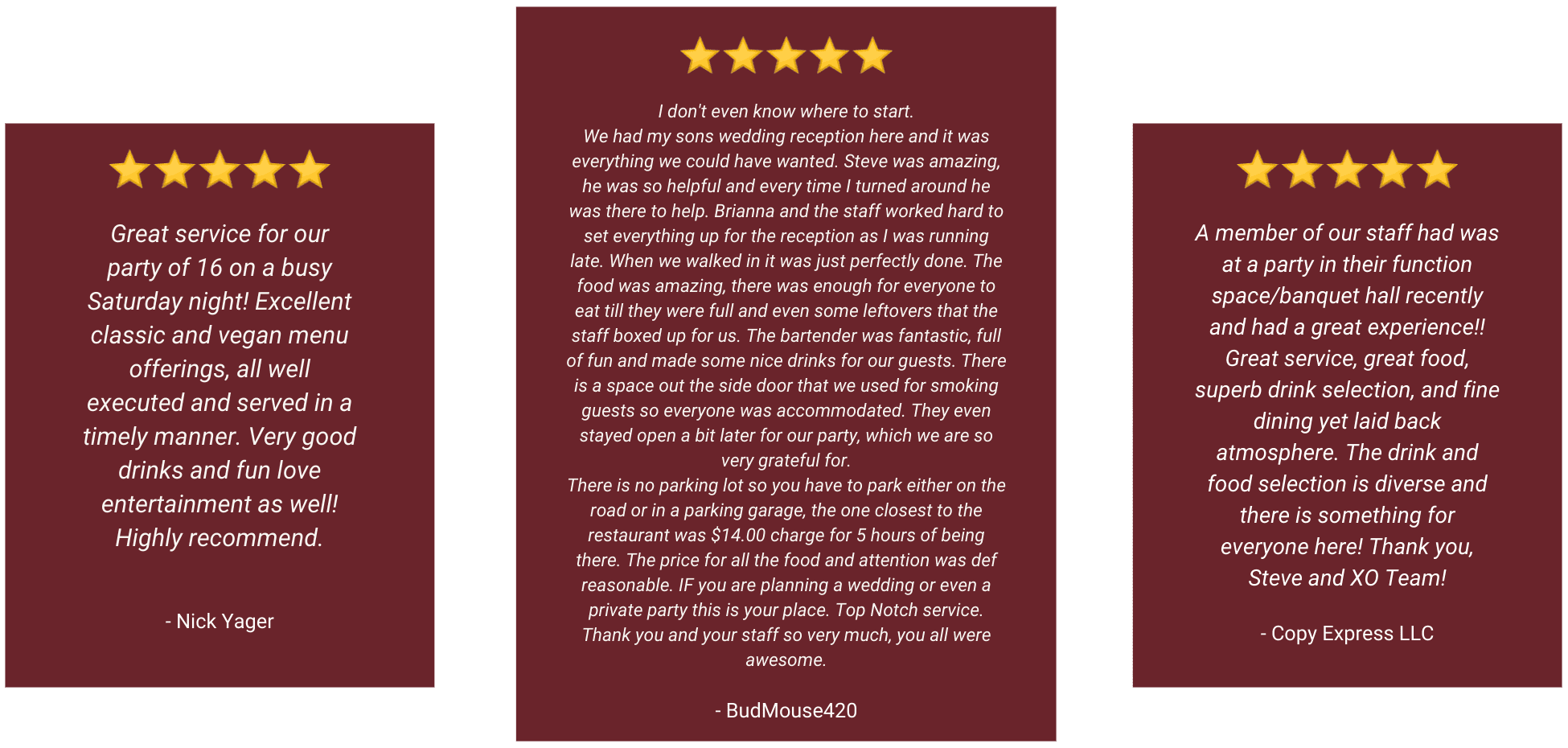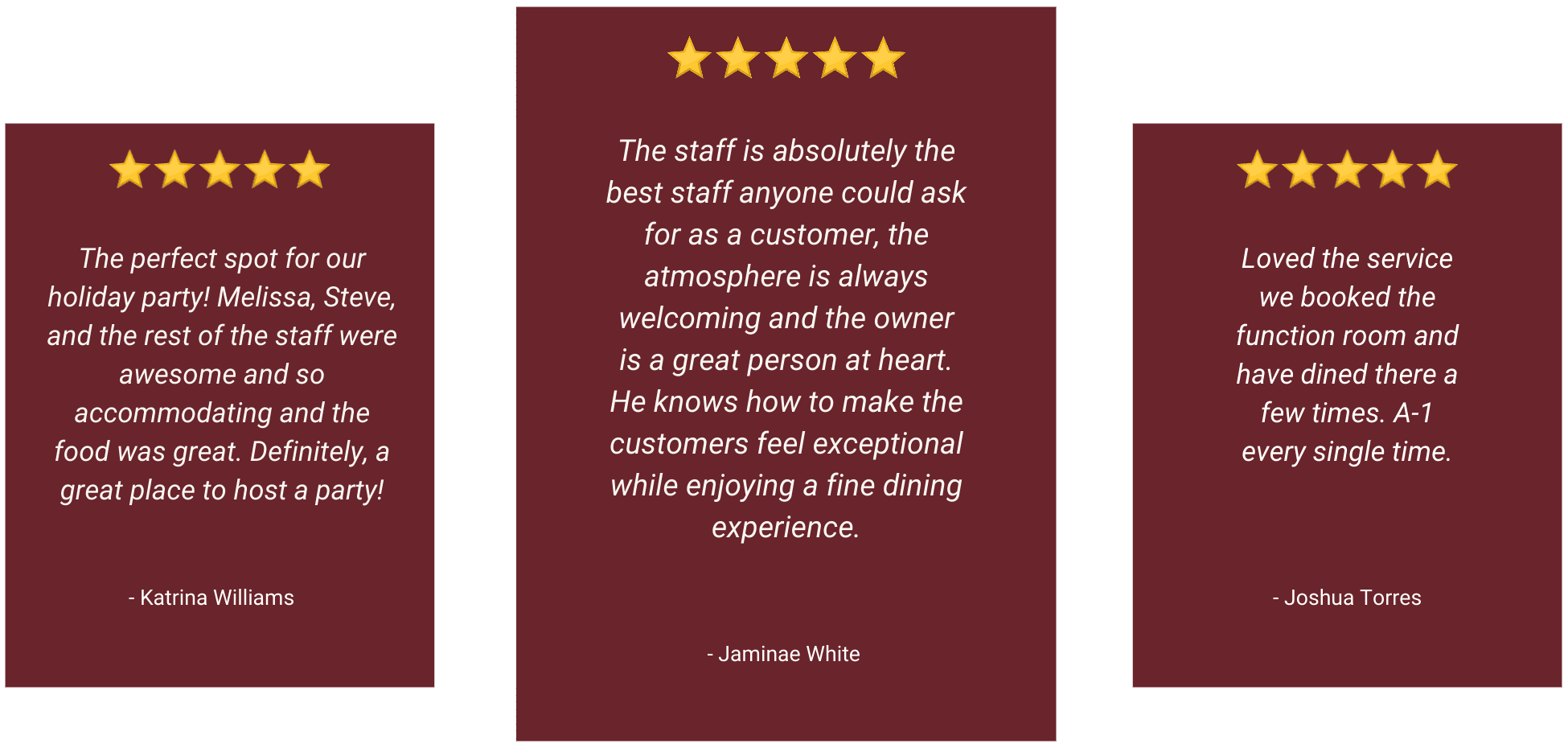 Had the absolute best time here today. Went out for a team lunch at XO and could not have been happier with the experience and the food. Very,... read more very friendly service, food was amazing, everyone seemed to really love the drinks, atmosphere was on point. What a great restaurant in Manchester. The Queen City is lucky to have XO!

Bradley Solomon


I don't even know where to start.
We had my sons wedding reception here and it was everything we could have wanted. Steve was amazing, he was so helpful and every... read more time I turned around he was there to help. Brianna and the staff worked hard to set everything up for the reception as I was running late. When we walked in it was just perfectly done. The food was amazing, there was enough for everyone to eat till they were full and even some leftovers that the staff boxed up for us. The bartender was fantastic, full of fun and made some nice drinks for our guests. There is a space out the side door that we used for smoking guests so everyone was accommodated. They even stayed open a bit later for our party, which we are so very grateful for.
There is no parking lot so you have to park either on the road or in a parking garage, the one closest to the restaurant was $14.00 charge for 5 hours of being there. The price for all the food and attention was def reasonable. IF you are planning a wedding or even a private party this is your place. Top Notch service. Thank you and your staff so very much, you all were awesome.

BudMouse420


This place is SO good. The waitstaff is friendly and energetic, the menu is incredible, and the food is fantastic. I tried a bunch of food and also ordered an... read more espresso martini which was delicious. I'll definitely be back.

Caitlin Konchek


First time to visit this wonderful gem. The stuffed dates are to die for. The salmon was cooked to perfection and the scallops and lobster were perfect. Coupled with a... read more basic wine list, this place is headed in the right direction.

Jim Allen


Stopped by for lunch today and had a fantastic lunch. The drinks were tasty and refreshing and the calamari we had for an appetizer was tender and and crispy... read more with little kick from the aioli dipping sauce and peppers not too spicy just right. The steak was tender and juicy, and my favorite the paella was to die for huge shrimp lots of mussels and calamari along with scallops they have a vegan option too. All in all it was a great lunch and will definitely visit again.

James Bradbury


Feeling the love at XO...fresh ingredients combined with caring skill of the chef made for a great late afternoon dinner on Elm Street. Really enjoyed the mixed drinks..had the "... read more Berry explosion"...coupled with seafood paella and a great ceviche salade...the calamari appetizer a must with drinks.

College Scout

Minimum 30 pieces (2 to 3 pieces per person per appetizer is recommended). Priced per piece.
Function Hall
Buffet Style
$22 per person + $4 for extra side + $7 for extra entrée
$32 per person + $4 for extra side + $9 for extra entrée
$18 per person + $4 for extra side + $6 for extra entrée